The excitement and beauty of our music will transform your event into a memorable occasion.  We do everything we can to make your day special.  Our aim is to have your guests go home with a smile on their face.
We do everything we can to make sure that your event preparations are as smooth and trouble-free as possible.  Our Concert Manager will work with you to help ensure that all the arrangements are in place.  We bring the majority of equipment that we need with us including our own lit music stands.  We are also able to advise you on the hire of chairs, marquees and generators if necessary.
One of the great advantages of a Concert Band is that we are able to play outdoors.  Generally, it is best to have some sort of shelter in case of bad weather.  Depending on how many people you are expecting, we may be able to play without needing a public address system. However, if you are planning an event for a large number of people, or with fireworks, then we can arrange for the hire of a PA system with a professional company that we work with regularly.
If you would like a spectacular finale to your evening, then few things go down as well as a fireworks display.  We can recommend a pyrotechnics company who are skilled at coordinating their displays with our music.  We often play Tchaikovsky's 1812 Overture at such events, but there are many other pieces in our repertoire that work just as well.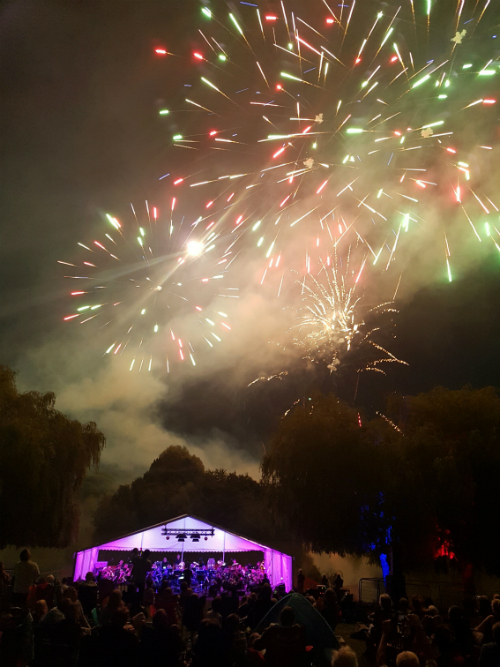 We are fortunate to be able to call upon a number of talented professional musicians if we plan to include solo pieces or simply need to augment our numbers.  Many of these "extras" play with London's finest orchestras, but still enjoy coming along to help us out.
At the Eynsford Concert Band, we believe that it is not enough to sound good – we want to look good as well. We put a great deal of effort into the presentation of our performances.  Our conductor is happy to give a light-hearted introduction to each of the musical items and will vary the look of the band to suit the style of the music that we play.
Engagements
Typical engagements for the Eynsford Concert Band include:
Summer Music Festivals
Church and Cathedral concerts
Concert Hall concerts
Society Weddings and Specials Occasions
Garden Parties
Corporate Functions
Open Days
National Celebrations
International Tours
Competitions
Concerts typically include 2 halves of 45 minutes with a 20 minute interval. Timing can be varied to meet the needs of your event.
To support your specific needs, the Eynsford Concert Band has an established network of contacts with whom we have worked closely with on many occasions. We know that they can provide the complete musical experience you are looking for.  These include:
Phoenix Fireworks – including a synchronised 1812 spectacular finale
Diamond Acoustics – live concert sound engineers, studio recordings and outdoor power generation
Allspan Marquees – supply of Marquees and Awnings for outdoor concerts
Renowned International Soloists
We are able to offer a wide choice of music. Our band is fortunate to have a library of over 3,000 works. We are happy to play anything from Bach to Big Band, with music that will appeal to young and old alike.  If you want a particular piece, we'll do our best to find the music.
The price that we charge to play at your event will be dependent upon the time, location, and the costs that the band has to incur.
People who have hired Eynsford Concert Band have often asked us to come back again the following year.  In fact, it frequently turns into a regular annual event.  As well as enjoying our music, people have commented that we are reliable, well-organised, flexible and reasonably priced.
If you need any further information or have any specific requests, then please contact us.